i9-12900k vs i7-12700k
The AMD 5000 series processors' arrival looked like a game end for Intel as those processors instantly attracted notice and buyer response due to their amazing performances and benchmarks. However, Intel reacted with their 12th generation processor range debut under the moniker "Alder Lake" on the 4th of November 2021. You might be here for i9-12900k vs i7-12700k, but don't worry; we will get to that after the introduction and these basic distinctions.
What's new in Intel 12th Generation Alder Lake
The Intel Alder Lake 12th generation features the x86 hybrid architecture, which combines larger high-performance cores based on the 'Golden Cove' microarchitecture with smaller high-efficiency cores based on the 'Gracemont' microarchitecture based on the Intel 7 (the new name for Intel's 10 nm Enhanced SuperFin process node). These Golden Cove cores, also known as P-cores (Performance cores), are Intel's most powerful CPU cores, with architectural advantages such as increased single-thread performance and response time on highly computational workloads like gaming and 3D design. Gracemont cores, also known as E-cores (Efficient cores), are designed to scale highly threaded workloads.
They've been improved to reduce background task management module interference for better multitasking support. They also boost multi-threading performance for parallel tasks. Intel's 'Intel 7' Enhanced SuperFin 10nm technology has been upgraded with Alder Lake. In addition, they've created a new hardware technique known as 'Intel Thread Director,' which improves operating system coherence.
This technology, which is embedded in the cores, is an intelligent workload distributer that boosts efficiency by utilising the cores at their peak performance and assigning the workload to an efficient thread. This functionality ensures that P-cores and E-cores are assigned in an optimum and dynamic manner. Intel Thread Director is now supported in Microsoft's latest operating system, Windows 11. This time around, the 12th generation of processors comes with a slew of new technologies.
Intel Gaussian and Neural Accelerator 3.0 is one of them. Artificial Intelligence, or AI, is a concept we hear a lot in our daily lives. Intel has developed a low-power neural coprocessor for this purpose, which aids in AI speech and audio applications such as neural noise cancellation. The Intel Deep Learning Boost is the cherry on top (Intel DL Boost). It's a set of features designed for their CPUs to help them optimise AI workloads. You might also be interested in the Core i7-12700k versus Core i5-12600k comparison.
Core i7-12700k vs Core i5-12600k.
Intel 12th Generation Alder Lake Specs Overview
Socket: LGA 1700
Architecture Type: Hybrid
Instruction Set: x86-64
CPU Cores Info: Combination of Golden Cove P-cores and Gracemont E-Cores.
RAM Support: DDR4 and DDR5
PCIe Support: PCIe 5.0
Wi-Fi: Wi-Fi 6E
I/O: Thunderbolt 4 support.
Support for noise suppression, auto-framing, and bandwidth enhancement.
What is the difference between an Intel Core i7 and an Intel Core i9 processor?
Let's go over the basics before diving into i9-12900k vs i7-12700k benchmarks and performance. To begin, a Core is a component of a processor that serves as the CPU's brain. It receives user commands via threads, processes them, and then outputs the results. A CPU/processor is made up of many cores that work together. Each core can work on its own set of instructions, and in circumstances where there are numerous cores, simultaneous processing can be done on the cache.
Intel Core is a line of high-performance processors developed by Intel in January 2006. CPUs for intermediate users of PCs and Workstations were included. They began with the Pentium series and progressed to the Core i3, Core i7, and Core i9 processors. In general, i7 and i9 processors have more cores and consume more power than their preceding series; the main differences are the additional cores, faster clock speeds, and bigger cache. Let's take a closer look at the details.
Intel Core i7
Intel Corporation released the Core i7 in 2008, having 64-bit x86 CPUs with up to 8 cores. Until the launch of the i9 series of processors in 2017, they were one of the most powerful of the 'Core I family. i7 was the CPU series found in high-end performing PCs during its craze. Their scalability, combined with their performance at the time, made them a coveted commodity.
The i7 family was your first choice if you needed top-tier gaming performance and low-tier to mid-tier content creation skills. The Intel Core i7 processor had a unique feature called Hyperthreading, which allows each core to be used twice simultaneously, giving the impression of having double the number of cores. To accomplish this, it spawns two processing threads for each physical core. Multi-threading was also supported by the Intel i7, allowing for multitasking and top-tier gaming performance. Turbo Boost technology on Intel Core i7 processors boosts performance per core while consuming more power.
Intel Core i9
Intel Corporation released the Core i9 in 2017, which features 64-bit x86 microprocessors with excellent performance and core count. It is presently the most recent and powerful Core I series. They make use of the 14nm Skylake microarchitecture. In addition to 44 PCI Express lanes, i9 CPUs supported up to 128GB of DDR4 RAM in quad-channel (i7 had 28 PCI Express channels).
These CPUs have six to eight cores, with two threads per core if Hyperthreading is enabled. Its Base Speed ranges from 2.9 GHz to 3.6 GHz, with Turbo Boost allowing it to reach 5.0 GHz. In terms of power efficiency, it's well renowned for its multi-threading capabilities. With its higher numbers and improved performance, the Core i9 offers Hyperthreading, which takes multi-threading to a new level. As a result, it has enough processing power for demanding applications like gaming. Intel i9 processors are unlocked processors that can be overclocked.
Overclocking is the technique of increasing a component's clock rate to the point that it can perform at rates it wasn't designed for. It allows the CPU to perform more operations per second at the expense of increased heat generation. Intel Optane memory is supported by Intel Core i9 CPUs for faster performance. It's a clever piece of software that personalises and improves your computing experience by remembering your most often used files and putting them close at hand for quick access. As a result, boot times and system performance are greatly improved.
Intel Core i9-12900k vs Intel Core i7-12700k
Both processors are the most powerful in their series and are based on the Alder Lake design. AMD had gained market share with the release of their new 5000 series CPUs in the AMD-Intel battle for market domination, but Intel has returned the throne with the launch of the 12th generation. In the benchmarks, Intel's multitasking and gaming performance has improved across the board, with AMD taking only a few victories. Let's take a closer look at both of these processors to help you decide.
Architecture
Both the Intel Core i9-12900k and the Intel Core i7-12700k are part of the Alder Lake-S family of processors. They utilise a hybrid x86 architecture that is manufactured using a 10nm technology and come with a variety of core and thread counts. Both of the CPUs make use of Turbo Boost Max 3.0, in addition to supporting HyperThreading and Overclocking.
CPU Specifications
The Intel Core i9-12900k has 16 cores in total, including 8 P-cores and 4 E-cores (Efficient Cores). The i7-12700k features a total of twelve cores. The Core i9 features the same amount of P-cores as the i7-12700k, but four more E-cores, totalling eight E-cores. There are 20 threads on the i7-12700k and 24 threads on the i9-12900k. As a result, the i9 outperforms the i7 in terms of core and thread count, although thread count is less important.
The Max Turbo Frequency of our i7 rival is 5 GHz, while the i9 CPU's Max Turbo Frequency is 5.20 GHz. The Turbo Boost Max Technology 3.0 Frequency frequency is the same on both CPUs. The i7-P-core 12700k's Base Frequency is 3.60 GHz, and its Maximum Turbo Frequency is 4.90 GHz. The base frequency of the i9-12900k P-Core is 3.20 GHz, with a maximum turbo frequency of 5.10 GHz. According to a study of E-core frequencies, the i7-12700k E-core Base Frequency is 2.70 GHz, and its Max Turbo Frequency is 3.80 GHz. The base frequency of the i9-12900k E-Core is 2.40 GHz, with a maximum turbo frequency of 3.80 GHz.
In real-world situations, such as gaming, you won't notice much of a difference in performance. The i9-four 12900k's cores, on the other hand, may be useful if your task requires substantial background processing (depending on usage). The L2 cache on the Intel i7-12700k is 12MB, and the L3 cache is 25MB. The Intel i9-12900k has a 14MB L2 cache and a 30MB L3 cache. For both systems that have these CPUs, the increase in L3 cache will boost instruction processing and system performance. Both CPUs have a Base Power (TDP) of 125W. However, the i7-12700k requires 190W of power for Maximum Turbo Power, whereas the i9-12900k requires 241W. Both processors have an embedded UHD Graphics 770 that runs at 300MHz and is based on Xe Architecture.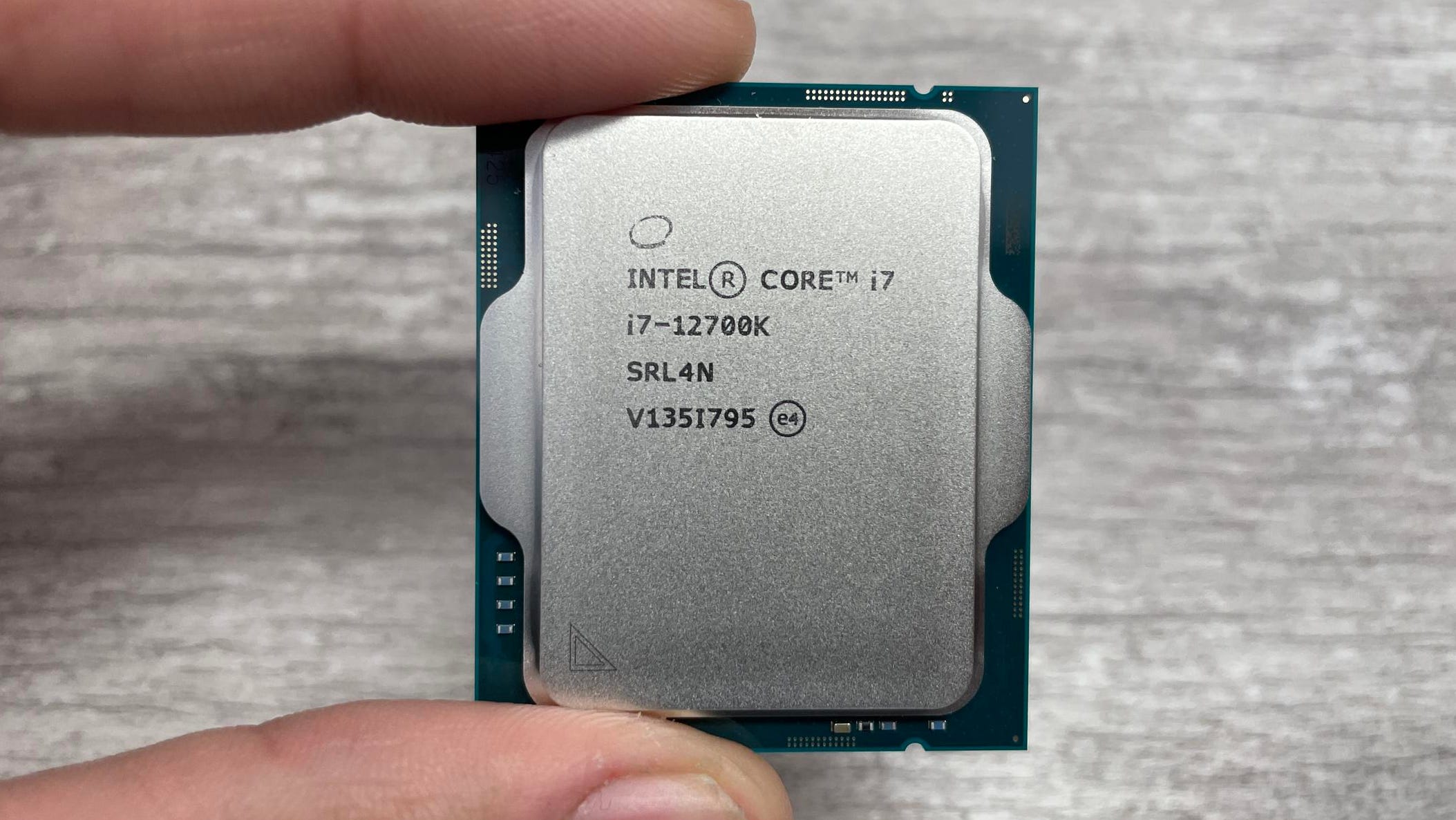 Credits: Forbes/Antony Leather
Intel Core i7-12700k CPU Specs
Here are some high-level CPU specifications for the i7-12700k, including cores, threads, and the amount of P-cores, among other things.
Cores: 12
Threads: 20
Number of Performance Cores (P-cores): 8
Number of Efficient Cores (E-cores): 4
P-core Base Frequency: 3.60 GHz
P-core Max Turbo Frequency: 4.90 GHz
E-core Base Frequency: 2.70 GHz
E-core Max Turbo Frequency: 3.80 GHz
Max Turbo Frequency: 5.00 GHz
Intel Turbo Boost Max Technology 3.0 Frequency: 5.00 GHz
L3-Cache: 25MB
TDP: 125W
Maximum Turbo Power: 190W
CPU Specifications for the Intel Core i9-12900k
On-paper stats are supplied below for greater understanding and to assist you in making a decision based on facts and figures.
Cores: 16
Threads: 24
Number of Performance Cores (P-cores): 8
Number of Efficient Cores (E-cores): 8
P-core Base Frequency: 3.20 GHz
P-core Max Turbo Frequency: 5.10 GHz
E-core Base Frequency: 2.40 GHz
E-core Max Turbo Frequency: 3.90 GHz
Max Turbo Frequency: 5.20 GHz
Intel Turbo Boost Max Technology 3.0 Frequency: 5.20 GHz
L3-Cache: 30MB
TDP: 125W
Maximum Turbo Power: 241W
Memory Specifications and Expansion Options
The Intel Core i7-12700k and Intel Core i9-12900k processors can support up to 128GB of memory (depending on memory type). Dual channel DDR4 up to 3200MT/s and DDR5 up to 4800MT/s are supported by the Intel Core i7-12700k. Dual-channel DDR4 up to 3200MT/s and DDR5 up to 4800MT/s are also supported by the Intel Core i9-12900k. Both the i7-12700k and the i9-12900k have a memory bandwidth of 76.8GB/s. Intel also announced its Z690 Chipset with LGA 1700 socket, which is compatible with all 12th generation CPUs, along with its 12th generation processors.
Unfortunately, due to the new Z690 chipset and LGA 1700 socket type, your old chipsets and motherboards will not be compatible with these 12th generation CPUs. Both the Intel Core i7-12700k and Intel Core i9-12900k support PCIe 4.0 and 5.0, allowing them to fully utilise their PC GPUs and SSDs. These CPUs can support up to four PCIe 4.0 and sixteen PCIe 5.0 lanes, giving them a total of 20 lanes for high data throughput with compatible devices. There will be a tremendous bandwidth of 64GB/s over 16 lanes in PCI Express 5.0. It means that PCIe 5.0 devices will have quicker storage and graphics in applications like video processing, gaming, and 3D rendering, reducing loading times.
Both CPUs also have DMI 4.0 with 8 DMI Lanes, which is an improved version of DMI (the interface between the CPU and the chipset). These processors use the new FCLGA1700 (LGA 1700) socket, which is larger than its predecessor LGA 1200. This increase in socket size implies that the cooling mechanics will alter as well. There's a chance the prior cooling solution didn't work quite right. Major manufacturers in the industry, including Noctua and others, have already begun manufacturing upgrade kits for their existing products, allowing them to be utilised with LGA 1700 socket motherboards.
Because of the higher TDP for both CPUs, you'll probably need a good cooling system to get the most out of these soldered semiconductors and avoid thermal throttling. On a more serious point, the performance of these CPUs will be heavily influenced by the motherboard you use. Both the i7 and i9 processors will require a constant power supply.
Because DDR5 RAM isn't widely used right now, the memory type for each motherboard will have a big impact on the performance of your system. Motherboards will be more expensive due to the incorporation of new technologies such as a new chipset Z690, a new socket LGA 1700, and CPU compatibility for PCIe 5.0 and DDR5 memory types. Depending on the design, RAM, Wi-Fi compatibility, Overclocking support, and VRM efficiency, there will be a variety of possibilities on the market. There is yet no consumer-available PCIe 5.0 device that can adequately utilise this additional capability, but opting for it will be a future-proof decision.
Intel Core i7-12700k and Core i9-12900k Memory and Expansion Specs:
Max Memory Size: 128 GB
Memory Support: DDR4 and DDR5
Memory Transfer Rates: DDR5-4800MT/s, DDR4-3200MT/s
Number of Memory Channels: 2 (dual channel)
DMI (Direct Media Interface) Version: 4.0
Maximum Number of DMI Lanes: 8
PCI Express Revision: 4.0 and 5.0
PCI Express Configurations: Up to 1×16+4, 2×8+4
Maximum Number of PCI Express Lanes: 20
Gaming Benchmarks
Without a doubt, the Intel Core i9-12900k and i7-12700k processors are extremely powerful and efficient, and they directly compete with AMD's offering. Gaming could be useful for determining who takes the lead in performance throughout a thorough performance evaluation. Both processors are capable, and there aren't many significant changes in gaming performance between them, but some data will reflect longer-term performance. Let's have a look at some gaming benchmarks. An NVIDIA GeForce RTX 3080 GPU, an MSI MPG Z690 CARBON motherboard, and Corsair Dominator Platinum 4800 CL 36 (DDR4) RAM were used to evaluate the CPUs.
Test Rig:
CS: GO
CS:GO's performance was benchmarked on 1080p Resolution with High Settings. For this configuration, we get the following stats mentioned below in i7-12700k vs i9-12900k.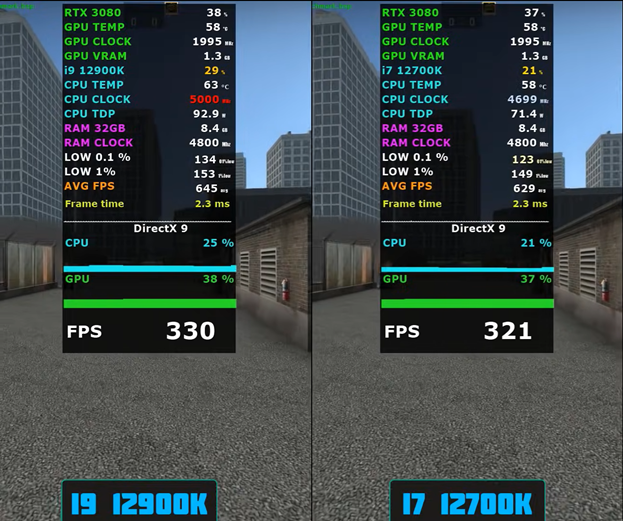 Credits: YT/Benchmark Lab CS: GO
Our main champ, the i9-12900k, has a use of 29% at 63°C temperature with an average of 645 FPS, as can be observed. The i7-12700k, on the other hand, has an use rate of 21% at 58°C and produces an average of 629 FPS. Another thing to note is that the i9 CPU has a clock speed of 5000 MHz and a TDP of nearly 93W. With a TDP of 71.4W and a clock speed of 4700 MHz, we can assume that the i9 is getting hotter than our i7 competitor. This change indicates the nearly 5°C temperature differential between the two CPUs, which is significant!
Cyberpunk 2077
Cyberpunk 2077's performance was benchmarked on 1080p Resolution with High Settings, and Ray Tracing turned off. The results are mentioned below.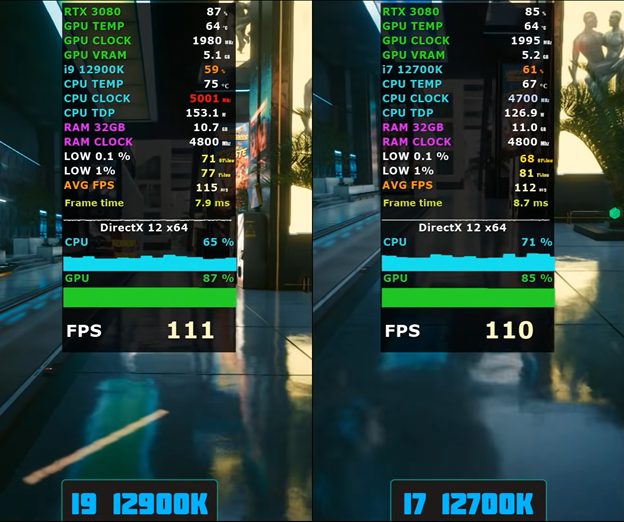 Credits: YT/Benchmark Lab Cyberpunk 2077
Statistics suggest that Cyberpunk 2077 is a resource-hungry game. At 75°C, the i9-12900k was used 59 percent of the time, with an average FPS of 115. The i7-12700k, on the other hand, uses 61 percent of CPU resources at 67°C and produces an average of 112 FPS. We can observe that the i9-12900k is running at around 5000 MHz with a TDP of almost 153.1W. When compared to the i7, which has a TDP of 126.9W and a clock speed of 4700 MHz, the i9 spikes at the highest tier of its clock speed and draws more power. A temperature difference of about 8°C may also be seen. According to these figures, the i9-12900k is processing and consuming more power while producing the same outcomes as the i7-12700k. Our future games will assist us in reaching a more favourable ending.
Red Dead Redemption 2 (RDR2)
It would be unfair not to include RDR2 in the i9-12900k vs i7-12700k Benchmarks comparison because it is a gorgeous game that uses a lot of system resources. At 1080p High Settings, RDR2 was benchmarked. Let's have a peek at how our Alder Lake rivals do.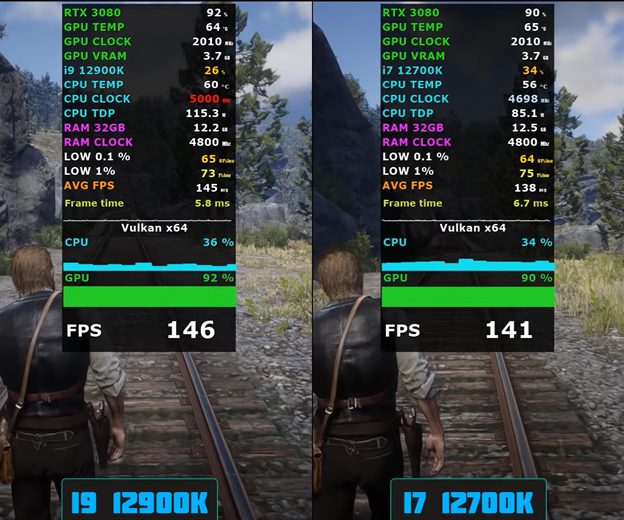 Credits: YT/Benchmark Lab RDR2
At 60°C, the i9-12900k uses 26% of the processor for RDR, with an average FPS of 145. At 56°C, we notice the use of 34% for the i7-12700k, resulting in an average of 138 FPS. The TDP of our i9 opponent is 115.3W, whereas the TDP of the i7 is 85.1W. Despite the fact that the i9 has a higher core/thread count, both processors deliver nearly identical performance. Due to a bottleneck, the Intel Core i9 may also increase its clock speed and use more power. A bottleneck occurs when a component is unable to fully utilise some resources due to a hardware limitation, resulting in the component's inability to perform to its full potential.
Microsoft Flight Simulator 2020 (MSFS 2020)
It's rare that we don't get to play Microsoft Flight Simulator 2020 on a gaming setup that is mid-tier to top-tier. It gives you an amazing flight simulator experience where you can travel the world while sitting in front of your desktop computer! On MSFS 2020 ON 1080p High Settings, we put our i7 and i9 competitors to the test. Let's have a look at the numbers.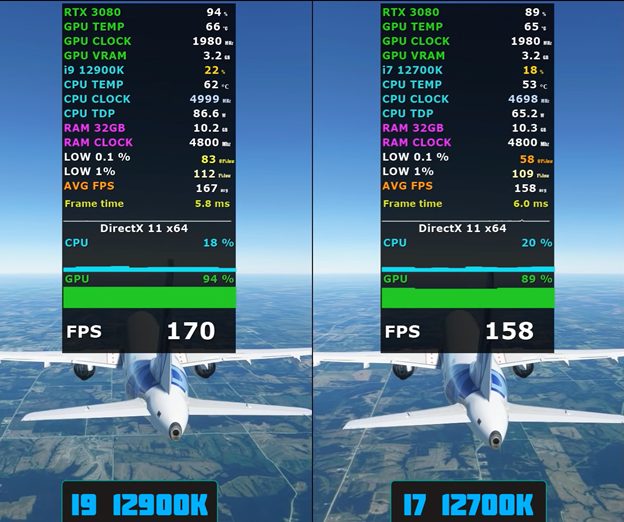 Credits: YT/Benchmark Lab MSFS 2020
MSFS 2020 doesn't appear to be a CPU-intensive game! On the i9-12900k, we saw a use of 22% at 62°C, with an average FPS of 167. At 53°C, the CPU consumption for the i7-12700k was 18%, resulting in an average of 158 frames per second. For MSFS 2020, we can see that the i9-12900k and i7-12700k perform similarly. We can see that the i7-12700k has lower CPU temperature, TDP, CPU Usage, and Clock Speed than the i9-12900k, indicating that both processors operate similarly.
To sum up the i7-12700k versus i9-12900k benchmarks, we can simply claim that the Intel Core i9-12900k and i7-12700k deliver nearly identical performance, despite our i9 processor consuming significantly more power and operating at a higher temperature. Despite this, the i9 CPU has a higher core/thread count.
This generates greater heat, but it has a minor impact on the performance parameters recorded in the statistics. It doesn't make sense to spend more money on better resources when you can get the same results as the previous generation! In any case, this will not be the case for every game because each use case is distinct. Your PC's performance is also determined by other system components.
i9-12900k vs i7-12700k – Which One is Better?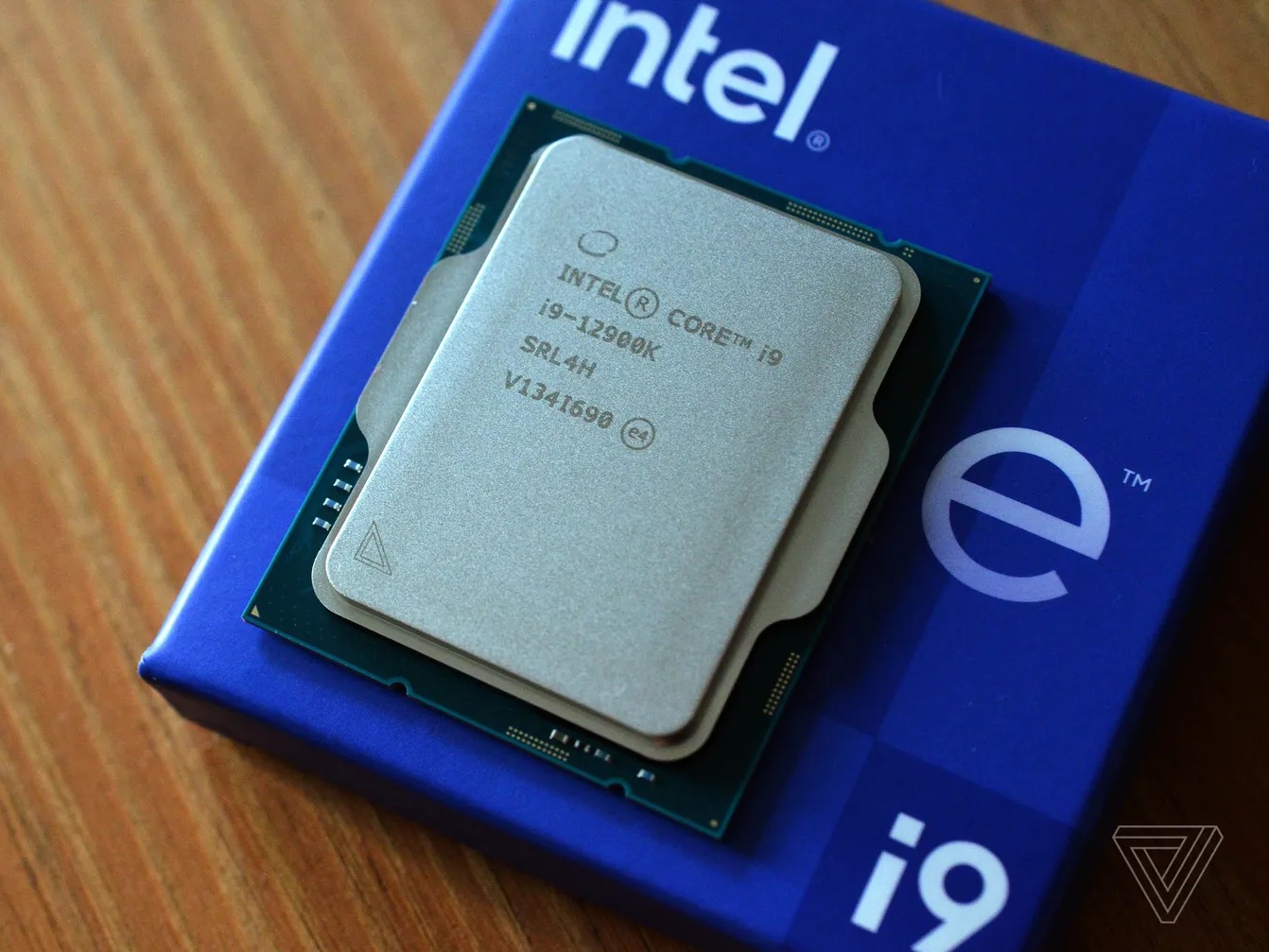 It was difficult to compare these two microprocessors side by side because both of the 12th generation opponents shocked us at times. They're both powerful, efficient, and deliver best-in-class results. They do have the disadvantage of requiring a new motherboard to begin with, as well as a new Z690 Chipset and LGA 1700 socket. Second, cooling will need to be upgraded, as prior configurations will not work here until the companies produce upgrade kits. We may, however, lay out a clear path for your purchase, making it a simple decision. Proceed with caution!
The Intel Core i9-12900k is without a doubt the most powerful of the lot. Intel has created a masterpiece with new technologies that lead the market in terms of performance and efficiency. In any case, it's in the enthusiast category. They're now overkilled for some PC rigs, which are unable to exploit their full capacity. It is, however, an option to consider if you want to future-proof yourself or if you want to increase productivity. Even yet, we wouldn't suggest it solely for gaming because you can get the same performance from its i7 sibling. It's also reasonably priced when compared to AMD's equivalents.
It generates a lot of heat, thus a good cooling system is also required. One thing to keep in mind is that the Z690 Motherboard you select may have a significant impact on its performance. On an inexpensive Z690 motherboard, it won't offer enough energy. The Intel Core i7-12700k is a beast performer as well. It delivers the same gaming performance as its bigger sibling, the i9 while consuming less power. With a lower core/thread count and lower power consumption, it runs very well within its hardware constraints. The best thing is that it outperforms all AMD competitors, giving it the finest value for money option for gamers.
It also outperforms the Ryzen 5800X and Ryzen 5900X CPUs in terms of price/performance. To summarise the discussion, if gaming is your first priority, go with the i7-12700k and spend a little extra on your Motherboard and Cooling Solution, as these will make everything shine. There's nothing better for you if you're like gaming and editing/rendering and want to be ahead of the game by utilising resources that get the most out of an i9-12900k. However, if you're looking for a gaming boost, the i9-12900k isn't worth the extra $200 for nearly the same performance as the i7-12700k.
Frequently Asked Questions – i9-12900k vs i7-12700k
Will my old motherboard support the Intel Core i7-12700k processor?
You can't use the i7-12700k processor if your motherboard doesn't have a Z690 Chipset and the LGA 1700 socket. Because the LGA 1700 socket is smaller than its predecessor, your CPU will not fit. It's also possible that your old cooling equipment won't fit here. If you're looking for a new motherboard, have a look at our list of the Best Z690 Motherboards.
Is the i9-12900k a no-brainer for the best gaming performance?
Well, that is debatable. Yes, if you're eager to take advantage of the Intel i9-full 12900k's potential. Without a doubt, it gives the best gaming experience. If you're on a tight budget and need a similar level of performance, the i7-12700k is the way to go. Spend a bit more money on your motherboard and you'll be fine.
My name's George Owens  and from past 10 years I am working as hardware engineer and  built many PCs for myself and my friends. I love gaming, programming, graphics designing and basically anything that has to do with computers and technology. If you ever need a hand with anything, feel free to contact me and I will be more than happy to help you out.