Best Motherboards for Mining [ Full Guide]
Crypto mining motherboards differ from conventional ones in that they include numerous PCIe slots for GPUs, whereas standard motherboards only have one. The greater the number of PCIe slots on a motherboard, the greater the amount of mining it can perform and, thus, the greater the amount of income it can make. Some of the best cryptocurrency mining motherboards can support up to 10 graphics processing units (GPUs), allowing consumers to get the most out of their investment.
When selecting a crypto mining motherboard, compatibility is an important factor to take into consideration. The motherboard serves as the system's structural base and should be compatible with the processors and graphics cards that you intend to employ. Even though most motherboards are compatible with most GPUs, it's a good idea to examine which suitable CPUs are available and their prices before investing in a motherboard for your computer.
It's also important to consider the electrical power supply. Due to the high electricity consumption of crypto mining, many motherboards are required to have several power supply to power all of the graphics cards within the system. There are some motherboards that accept several power supplies, which allows for greater flexibility; however, others only allow for one, which implies that it must have a high output in order to handle the load.
Best Motherboards for Mining Reviews
For the time being, the Asus B250 Mining Expert is the most powerful mining motherboard available, thanks to its high GPU capacity. Its 19 PCIe slots outperform those of its competitors and provide optimum cost-effectiveness because it can perform the functions of numerous motherboards while using a smaller amount of power. Running 19 GPUs consumes a lot of power, which is why the B250 Mining Expert has three power supply units, each of which is responsible for a distinct motherboard area. Two power supplies provide power to six PCIe slots each, with the third power supply providing power to the remaining seven slots.
This B250 motherboard is compatible with Intel's LGA 1151 socket and is compatible with the company's sixth and seventh-generation processors, as well as other processors. It can accommodate up to two DDR4 RAM modules with a combined maximum capacity of 32 GB.
No one can dispute the B250 Mining Expert's effectiveness, but the device's hefty $1098.00 price tag and restricted availability may deter many prospective purchasers. For miners with deep pockets who want to create the greatest rig possible, it's still a worthwhile investment.
#2. MSI B360-F PRO – Best runner-up motherboard for crypto mining
For those who cannot afford or do not have access to the B250 Mining Expert, the B360-F PRO from MSI is the next best alternative. The 18 PCIe slots are comparable to the Asus offering, and it is also compatible with Intel's newest processors, which is a plus. The B360-F PRO outperforms the B250 Mining Expert in that it has the ability to run up to five power supply units (PSUs) using an adapter that is included. MSI has included visual components such as distinct LEDs for each PCIe slot as well as a Debug LED to help users debug any problems as quickly as possible.
Instead of operating with previous Intel CPUs from the sixth and seventh generations, the B360-F PRO works with newer Intel CPUs from the eighth and ninth generations, which have higher processing power and are more powerful. It has the same dual RAM slots as the B250 Mining Expert, and it can accommodate up to 32 GB sticks of RAM in each of the two RAM sockets. The B360-F PRO is somewhat less expensive than the B250 Mining Expert at $996.86, but it has less PCIe slots, making it a more attractive option. Despite the fact that it requires newer CPUs and has a higher power supply capabilities, it is still a viable choice.
#3. Biostar TB360-BTC Expert – Best value motherboard for crypto mining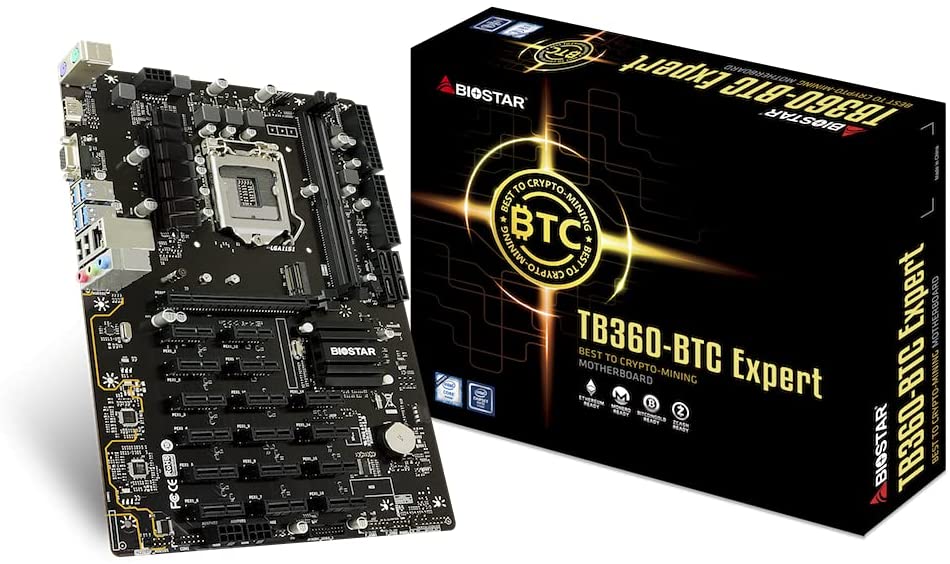 This motherboard from Biostar is one of the top cryptocurrency mining motherboards on the market, thanks to its 17 PCI-E 3.0 ports and inexpensive price. This motherboard is compatible with the vast majority of graphics cards and may be used with a combination of Nvidia and AMD graphics cards. According to the manufacturer, the TB360-BTC Expert only supports up to two power supply units, which is less than the other motherboards discussed so far.
Although the TB360-BTC Expert has a more current Intel H370 chipset when compared to the B360-F PRO, it employs the same LGA 1151 socket and eighth and ninth-generation CPUs that the B360-F PRO does. It, like the other motherboards discussed so far, has the capacity to support up to two 32 GB RAM modules.
When taking into consideration the TB360-BTC Experts 17 GPU slots, it represents exceptional value at $299.95, despite the fact that its capacity is marginally lower than the two top options at a third of the price. It's one of the best cryptocurrency mining motherboards for purchasers who are just getting started and don't want to make a large financial commitment.
#4. ZOTAC B150 Mining ATX – Best replacement motherboard for crypto mining

The Zotac B150 Mining ATX motherboard may be of interest to buyers who are wanting to replace a broken motherboard. While the seven GPU capacity isn't quite up to the standards of the top options, it is still plenty for mining, especially when considering the affordable cost of the system.
The Zotac B150 isn't the most up-to-date motherboard on the market, and its Intel LGA 1151 socket is only compatible with processors from the sixth and seventh generations. Despite the fact that it is powered by older CPUs, the B150 has the same amount of RAM as the other motherboards on this list: 64 GB.
Because it employs older processors and doesn't have many PCIe slots, the B150 may not be the greatest choice for new rigs in some situations. Because of its outdated technology and low price of $349.99, it's an excellent choice for replacing ageing motherboards in computers.
#5. Biostar TZ590-BTC Duo – Best budget motherboard for crypto mining
Biostar's TZ590-BTC Duo is an excellent choice for consumers on a tight budget or those wishing to get into cryptocurrency mining. The fact that it only has eight PCIe slots makes it a more affordable crypto mining motherboard, but it more than makes up for this by supporting newer processors and having a bigger RAM capacity than any other motherboard on this list. The TZ590-BTC Duo also includes an Intel LGA 1200 socket and can accommodate processors from the tenth and eleventh generations, which are more current. There are also four RAM slots, and the system can accommodate up to 128 GB of DDR 4 RAM in each of them.
The TZ590-BTC Duo is a high-capacity crypto mining motherboard that supports newer CPUs, which is unusual for an entry-level crypto mining motherboard. Its low number of PCIe slots is understandable given its $221.53 price tag, however. This article contains affiliate links, which may result in a small commission being paid to Dot Esports if you click on them.
Quick Motherboard Shopping Tips
When choosing a motherboard, consider the following:
1. Form Factor
Most of the time, you will put your motherboard for mining on an open bench and not in a cabinet to keep it cool. Because of this, you should be able to use motherboards for mining of any size. But even so, it's still a good idea to look at the size because it gives you a good idea of how it connects to other things. It is important for mining motherboards to have as many PCIe slots for expansion GPUs as possible.
Due to this, almost all motherboards for mining have an ATX form factor, which is a lot bigger than most motherboards for other types of work. As a matter of fact, a few motherboards for mining may have custom form factors that are even bigger than the ATX form factor.
2. Chipset & CPU Socket
This is how you run the operating system and your favourite mining programmes on your computer: You'll need a CPU to run the operating system and the programmes you want to use to mine. To make sure you can use the CPU you want to mine with your motherboard, you need to check its chipset and CPU socket. Most motherboards for mining use older chipsets like the Intel H110, Intel B350, Intel B360, Intel Z390, and other chipsets that don't have as many features as newer chipsets.
Like these chipsets, the most common CPU socket found on most motherboards for mining is the Intel LGA 1151. This is the same as these chipsets being old. Chipset and CPU socket combinations that work with older Intel 8th and 9th generation CPUs should be enough because the performance of your mining rig isn't dependent on the CPU, but on the graphics cards that are in your machine.
3. PCIe Expansion GPU Slots
The main reason to get a motherboard for mining is to build a mining rig with a lot of graphics cards in it. Checking the number of PCIe expansion GPU slots your motherboard has is very important. When you build a mining rig, you will use all of these expansion slots to put in graphics cards. If you want to build a mining rig with a lot of graphics cards, you'll need a motherboard that has 6 slots, 8 slots, 12 slots, or even more. This way, you can connect a lot of graphics cards to a single motherboard.
4. Memory Support
It doesn't matter how much memory you have on your motherboard for mining, but you should make sure that it can handle the amount of memory you want to use. In order to run the operating system and the mining apps on your machine, you'll have to have a lot of space. The good news is that almost all motherboards for mining come with two or four memory slots that can be used for up to 32 GB, up to 64 GB, and even up to 128 GB of memory. Even 16 GB RAM is too much for a mining rig.
5. Storage Options
You won't be using your mining rig to do things like run programmes on your computer all the time. This means that you won't be putting any files or programmes on it. However, you still need to set up an operating system and all of the programmes that are needed to mine cryptocurrencies, so you still need to do that.
For the same reason, it's important to check the storage options on your motherboard if you want to mine. Also, some motherboards for mining can connect 2.5 inch and 3.5 inch hard drives and SSDs through 4 to 6 SATA ports. Some motherboards for mining can also connect NVMe drives through on-board M.2 slots to speed up the boot process.
6. Ports and Connectivity
Make sure your motherboard has enough storage space and ports to connect to other devices, just like when you choose a motherboard for mining. These things will still need to be connected to your motherboard so that you can configure and check your mining rig's output. Even though your motherboard won't be used every day, you will still need things like a keyboard, mouse, and monitor to connect to your motherboard in order to configure and check its output.
As a result, even cheap motherboards for mining have a lot of different ports and connectivity options, like USB 2.0, USB 3.0, HDMI, ethernet, PS/2, audio, and a few other types of ports. If you want a motherboard that can be used for mining, then having a lot of ports and the most recent versions is always better.
7. Warranty
Then, after you build a high-end mining rig, you'd want it to last as long as possible. To make sure this is the case, you can look at the warranty that comes with your motherboard for mining. A longer warranty period always means a better motherboard for long-term use. For this reason, most motherboards for mining have a two- or three-year guarantee. The better option would be a three-year guarantee.
FAQs for the Best Motherboards for Mining
1. What is the difference between a standard and a mining motherboard?
When comparing mining motherboards, the key advantage of using a mining motherboard is that it will have a significantly greater number of PCIe expansion GPU slots on it, which is ideal if you want to build a large-scale mining rig with many GPUs linked to it.
2. Can you install a mining motherboard inside a computer cabinet?
While it is possible to install any mining motherboards that have the normal ATX form factor inside a computer cabinet, it is not suggested to do so because of the increased risk of failure. As a result, because mining rigs have a greater number of graphics cards, all of them require sufficient cooling, which can only be accomplished on an open table design rather than within a computer cabinet.
3. How do you connect full-size GPUs to small PCIe x1 slots?
Ans: Because you will not be utilising the graphics cards in your mining rig for gaming, they are all connected to the motherboard via a USB PCIe extension, which essentially changes a PCIe x1 slot into a PCIe x16 slot, allowing you to place a graphics card in it.
Conclusion: Best Motherboards for Mining
Because the prices of almost all cryptocurrencies have now skyrocketed, investing in a mining rig can be a very profitable investment. To build one, you'll need a large number of graphics cards as well as a way to connect them all to a single computer. As a perfect solution in this situation, you can simply choose anything like the best motherboards for mining, which were previously described in our article.
This presentation will primarily cover their important specifications and considerations, as well as a comprehensive buying guide to assist you in selecting the best motherboard for mining. If you are still perplexed, you can simply select one of our top picks for the best mining motherboards, which can be found here: best mining motherboards.
My name's George Owens  and from past 10 years I am working as hardware engineer and  built many PCs for myself and my friends. I love gaming, programming, graphics designing and basically anything that has to do with computers and technology. If you ever need a hand with anything, feel free to contact me and I will be more than happy to help you out.